Who says chicken scratch isn't worth much? This one is expected to bring in between $700,000 and $1.2 million. It is the handwritten lyrics to A Day In The Life by
John Lennon
.
What's particularly interesting about this is that it was banned in England, when it first was released in 1967, because of one line that was basically added as an afterthought; that line is:
"I would love to turn you on."
The hand written lyrics will go to auction in NYC sometime in June. Some lucky person with enough resources to come up with the winning bid, will walk away with it and I'm sure, over a decade or two, will reap more profit from this investment to provide a handsome retirement for all his children and grandchildren.
I'm not sure John would like that. I've read many a biography of the man and he scorned that sort of thing..unless, of course, it was his pockets being lined in gold.
But, nonetheless, it will be sold. I hope there's some middle-aged ex- 1960ish Beatlemaniac, preferably a female who spent her early teens screaming her heart out over the mop top four, who walks away with it.
Going..
going..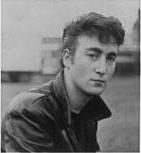 gone.