The other evening, Michaela and Tareq Salahi attended a State Dinner. Normally, there is not much to-do about guests at these dinners but all hell has broken out over these folks, because they crashed the damned thing! The media as well as congress are up in arms over this. Security had been breached with very little effort.
These people also crashed a Black political event recently:
'WASHINGTON – On September 28, 2009 The Congressional Black Caucus Foundation hosted its Annual Phoenix Awards Dinner as part of its 39th Annual Legislative Conference in Washington, DC. More than 4,000 guests attended the event which is the major fundraiser for the Foundation's scholarship, internship and fellowship programs. Michaela and Tareq Salahi were in attendance. The couple was approached by CBCF staff when they were alerted about a ticket dispute at the table. Upon asking for tickets for the table, which the Salahi's could not produce, the couple was asked to leave and they complied.'
This thoroughly cracks me up! The Congressional Black Caucus Foundation?? Just take a look at these people while at this event: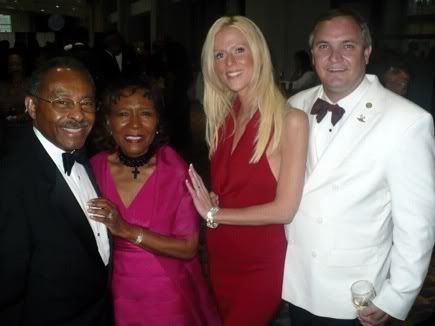 I mean, isn't it obvious something is amiss??? I'm just about rolling on the floor laughing over this. I find it absolutely delightful.
I know, I know, it's just not a good thing that folks, particularly con artists such as Michaela and Tareq Salahi, can get that close to the highest powers in our land, to sneak in, sashay and smile like they own the place, posing for pictures with the highest powers of out country. It is a dangerous thing, and Congress is about to question them on this. That in itself is not funny. But what I do admire is the pure gall of these folks.
This takes guts. This is not something the ordinary person would dream of doing. But, there is something about people who dance outside of the lines that wins my admiration.
Do I like them? No. I think they're overbearing and snooty. But I do need to give the devils their due.